The Rich Do Not Want to Pay More Taxes to Build Affordable Housing for Homeless
by John Lawrence, May 16, 2018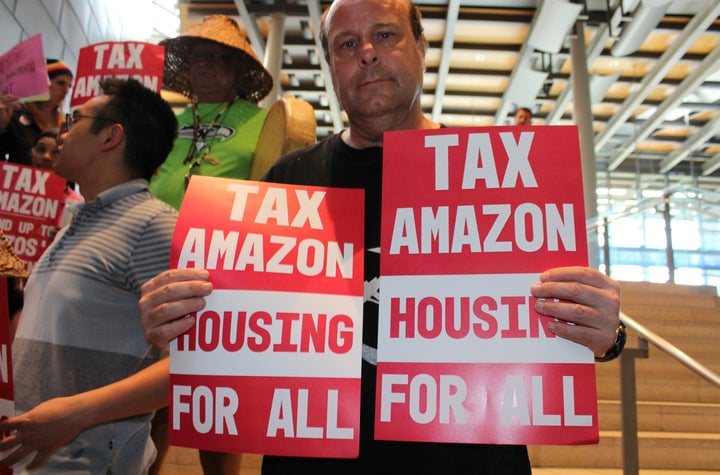 Let them rot on the streets is what the rich are effectively saying to those who can't afford skyrocketing rents. The Seattle town council has proposed a new tax that would be used to build addordable housing for the homeless. Seattle has one of the worst homeless crises in the country. This tax would only be imposed on the biggest of businesses and would be a relatively minute sum compared to profits. But Jeff Bezos, CEO of Amazon and world's richest man, is having none of it. He will just pick up his marbles and go home, and home is wherever they are slobbering all over themselves to give him tax breaks.
Amazon, like a lot of other high  tech companies, could locate their facilities anywhere. They don't have to be near a river or a coal mine or a train depot. Their work is mainly online. You'd think the world's richest man would assume some responsibility for solving the social ills which his very success helped to create. Amazon has a few highly paid employees which bid up the price of housing in areas where they operate just like it's been bid up in San Francisco and Silicon Valley. Pretty soon a family of modest income can no longer afford to live there, they get evicted and end up on the streets.
Huffington Post reported:
Seattle's city council on Monday [May 14] approved a new tax for the city's biggest companies, including Amazon.com Inc., to combat a housing crisis attributed in part to a local economic boom that has driven up real estate costs at the expense of the working class.
Amazon, the city's largest employer, said after the vote that it would go ahead with planning for a major downtown office building that it earlier had put on hold over its objections to a much stiffer tax plan originally proposed.
As passed on a 9-0 vote after a boisterous public hearing, the measure would apply to most companies grossing at least $20 million a year, levying a tax of roughly 14 cents per employee per hour worked within the city - about $275 annually for each worker.
Amazon's success has contributed to the economic divide in two ways. First, it has swooped up a lot of business from brick and mortar stores so a lot of them are going out of business. It has concentrated its profits, that formerly were spread out over a number of businesses and locales, in one man's pocket. Wal-Mart has done the same thing. Profits are concentrated for a few people and not dispersed on a widely distributed basis. Automation eliminates many of the working class type jobs. The result is that there are fewer jobs available for the majority of people while money is concentrated in the hands of a few. Is there any wonder that an economic divide exists between the 1% and the 99%?
Amazon's vice president, Drew Herdener, said, "We remain very apprehensive about the future created by the council's hostile approach and rhetoric toward larger businesses, which forces us to question our growth here." So Amazon as a corporation, like most American corporations, assumes no responsibility to the social environment in which they operate, even to addressing problems that they partially have caused. They have always gotten away with externalities, costs imposed on the environment that are then picked up by the public. Only now the externality is driving up the cost of housing.
American corporations express no responsibility to anything or anyone other than making as much money as they can possibly make and keeping it all for themselves. Before the high tech era at least, profits were more widely dispersed over a number of corporations that employed many more people. Anti-trust legislation saw to that. Now a few people can do the jobs that required many more before. Automation and robotization have taken over most manual labor and even middle class desk jobs. The tax is expected to be borne by about 500 companies, including Starbucks, Apple, Google and Facebook, accounting for 3 percent of the city's private sector. Healthcare companies are exempt, as are non-profits.
Huff Post continued:
Sponsors of the tax said Seattle's biggest-earning businesses should bear some burden for easing a shortage in low-cost housing that they helped create by driving up real estate prices to the point where the working poor and many middle-class families can no longer afford to live in the city.
Supporters cite data showing Seattle's median home prices have soared to $820,000, and more than 41 percent of renters in the city ranked as "rent-burdened," meaning they pay at least 30 percent of their income on housing.
The Seattle metropolitan area also is home to the third-largest concentrations of homeless people, nearly 12,000 counted in a January U.S. government survey, and almost half of them were living on the streets or otherwise unsheltered.
Mayor Jenny Durkan, who expressed concern that the original proposal would lead to an economic backlash, said she would sign the new tax ordinance into law.
This should be the model for all cities to adopt. They should not compete to give tax giveaways to major corporations in order to get them to build facilities in their cities. That is a beggar thy neighbor policy. Cities need to step up and use their power to do the right thing and get the rich to pay their fair share to solve the homeless crisis.