Children hold placards as they march with their parents during a climate protest in Jakarta, Indonesia on September 17, 2023.
(Photo: Yasuyoshi Chiba/AFP via Getty Images)
by Jake Johnson, Common Dreams, September 17, 2023
"We deserve a world free from fossil fuels."
Climate activists are closing out the hottest summer on record with hundreds of demonstrations worldwide, all blaring a unified message: "End fossil fuels."
From Indonesia to Uganda to the United Kingdom to the United States, climate campaigners young and elderly, scientists, human rights advocates, and other defenders of the planet have taken to the streets this weekend or are planning to do so on Sunday, a mass mobilization that comes ahead of United Nations Secretary-General António Guterres' Climate Ambition Summit in New York City on Wednesday.
On Sunday afternoon, the city is set to see the largest climate protest in the U.S. in years, with tens of thousands expected to join a march calling on President Joe Biden to declare a climate emergency and do everything in his power to phase out fossil fuel extraction.
"We deserve a world free from fossil fuels," organizers declared before Sunday's march, which is set to kick off at 1:00 pm ET. "This is our chance, and Biden's opportunity, to break free from fossil fuels and build a just and safe future."
The United States is the world's largest historical emitter of planet-warming greenhouse gases, and a recent report identified the country as " planet-wrecker-in-chief" over its continued support for fossil fuel expansion at home and abroad. The nation has been hit by a record 23 billion-dollar extreme weather events so far this year.
Biden, who has come under fire for approving massive drilling projects in Alaska and elsewhere, is expected to skip Wednesday's Climate Ambition Summit.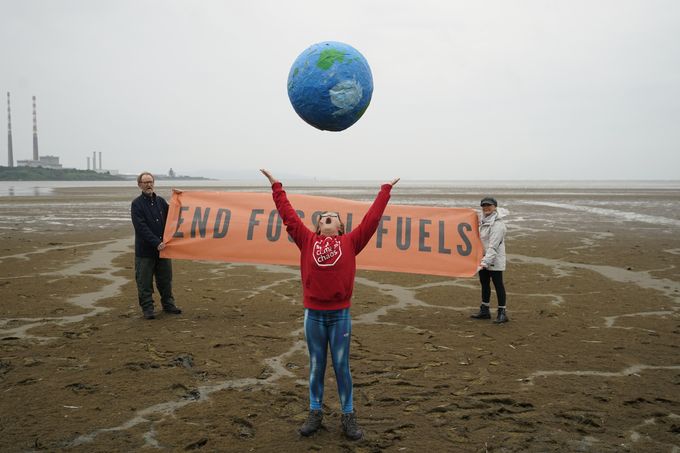 (Photo: Niall Carson/PA Images via Getty Images)
The New York City march will cap off a weekend of global climate action held at the tail-end of a summer marred by catastrophic extreme weather, from devastating wildfires in Hawaii and Greece to massive flooding in Libya and China.
Thousands of people have been killed across the globe by extreme weather this year.
"We've experienced a summer of painful evidence that we are living in the midst of a climate crisis," organizer Eric Weltman told a local New York media outlet on Saturday.
In the face of intensifying climate breakdown and government inaction, activists around the world have ramped up their protests and civil disobedience outside of government buildings and corporate offices in recent days.
"In Quezon City in the Philippines [on Friday], activists lay in front of the Department of Environment and Natural Resources in protest and held signs demanding fossil fuels—from coal to natural gas—be phased out," The Guardianreported. "In Sweden, climate activists gathered in front of Parliament, just next to the Royal Palace where Sweden's King Carl XVI Gustaf was celebrating his 50th anniversary on the throne. Their chants about 'climate justice' could be heard in the palace courtyard as the king watched the changing of the guard during the golden jubilee celebrations."
The Intergovernmental Panel on Climate Change (IPCC) has estimated that more than a third of Earth's population currently lives in areas "highly vulnerable" to climate chaos, a fact that was magnified this year as much of the globe faced weather disasters made far more likely by the continued burning of fossil fuels.
A comprehensive U.N. report published earlier this month found that world governments are nowhere close to holding emissions to levels necessary to keep warming within limits set by the Paris climate accord nearly a decade ago.
Agnès Callamard, secretary-general of Amnesty International, warned that "this generation faces a worsening climate catastrophe, with devastating consequences for human rights, but too many leaders in positions of power today are doing too little to avert this disaster, and even reneging on existing promises."
"We call on governments and corporations to act now to safeguard everyone's right to a healthy environment by bringing a rapid end to the current era of fossil fuel dependency, swiftly and fairly transitioning to renewable energy sources, and ending energy poverty," said Callamard.
(Photo: Loredana Sangiuliano/SOPA Images/LightRocket via Getty Images)
Fossil fuel giants, meanwhile, are thriving—and ditching their previous vows to curb emissions, barreling ahead with more planet-wrecking oil and gas production.
While profits have dipped this year amid falling global gas prices, the world's leading fossil fuel companies raked in a combined $219 billion last year, spurring growing calls for legal action against the destructive industry.
On Friday, California became the largest economy in the world to file suit against major oil and gas companies.
"Against the backdrop of a harrowing year, with millions of people experiencing devastating climate impacts, the painful reality of the climate crisis is clear," said Rachel Cleetus, policy director of the Climate and Energy Program at the Union of Concerned Scientists. "It's well past time to stop putting the profits of fossil fuel companies ahead of the wellbeing of people and the planet."
Our work is licensed under Creative Commons (CC BY-NC-ND 3.0). Feel free to republish and share widely.
---