The U.S. Drought Monitor (USDM) is updated each Thursday to show the location and intensity of drought across the country. Drought categories show experts' assessments of conditions related to dryness and drought including observations of how much water is available in streams, lakes, and soils compared to usual for the same time of year. 
California/Nevada conditions as of May 10, 2022:
100% of California is experiencing Moderate (D1) to Exceptional (D4) Drought (59.81% in D3, 0% in D4)
California population in drought: 37,247,852
100% of Nevada is experiencing Moderate (D1) to Exceptional (D4) Drought (46.6% in D3, 8.27% in D4)
Nevada population in drought: 2,700,551
U.S. Drought Monitor Categories

| Value | Map Hex Color |
| --- | --- |
| D0 - Abnormally Dry | #ffff00 |
| D1 - Moderate Drought | #ffcc99 |
| D2 - Severe Drought | #f5ad3d |
| D3 - Extreme Drought | #ff0000 |
| D4 - Exceptional Drought | #660000 |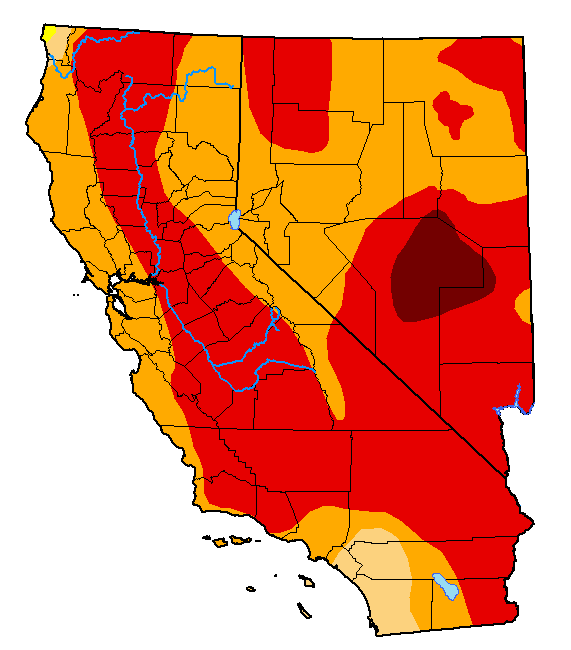 Main Stats
100%
of California and Nevada are in drought (D1–D4)
59.8%
of California is in extreme (D3) to exceptional (D4) drought
54.9%
of Nevada is in extreme (D3) to exceptional (D4) drought
Current Conditions
April brought widespread precipitation through the northern parts of the region; however, California and Nevada remain in a third year of drought—with recent expansion of extreme drought (D3) across southern and central California and Nevada, according to the U.S. Drought Monitor.
Most of the region has received between 50%–90% of normal precipitation since the start of the 2022 water year (Oct. 1, 2021). The eastern side of the Sierra Nevada has received above-normal precipitation, while Southeastern California and Southern Nevada have received less than 50% of normal precipitation.
Although parts of northern California and Nevada received above-normal precipitation in April, the amount of missing precipitation since the beginning of the drought, October 2019, did not show meaningful differences between April 1 and May 1. Much of the region is missing over half a year's to a year's worth of normal precipitation. Parts of Northern California, Southeastern California, and Southern Nevada are missing more precipitation, between 1–1.5 years' worth.
Thus far in the 2022 water year, regional evaporative demand ranks toward the middle of the most recent 40 years. However, much higher evaporative demand has occurred in southern Nevada and southeastern California. This is in contrast to Water Year 2021 when evaporative demand was extremely high throughout much of the region. 
Snow drought improved slightly during April with some cold storms, but continues as many of the stations in California are reporting 0% snow water equivalent (SWE) and Nevada water basins are at or below 75% of normal SWE for this time of year.  
Current water storage in the Western Sierras, represented here as reservoir plus snowpack, is less than half of the normal storage for this time of year. In Nevada, Lake Tahoe, Lake Mead, and Rye Patch are much below average capacity. 
NOAA's National Weather Service California Nevada River Forecast Center is forecasting below-normal streamflow at most locations. 
Dead fuel moistures status has generally improved since April with much of the region near normal. 
Lake Powell storage has declined continuously since 2019, and is now below 6 million acre-feet. The U.S. Bureau of Reclamation is forecasting unregulated flows into Lake Powell at 62% of normal inflow.    
For more information, check out Living with Drought in Nevada and the California Water Watch.